Long-distance or virtual relationships can feel challenging at times. Virtual dates, or long-distance dates, are often focused on video calling each other, or at most, having a small virtual dinner date through your camera. 
However, regardless of how much you try, it is hard to get the feeling and excitement of a real date.
If you are tired of the monotony of your relationship, it is time that you stepped out of the strut and included games in your virtual dates. Casual moments add excitement to a relationship, and plenty is on offer when you go for online games on your relationship dates.
Add a spark to your online dating experience and enjoy the games we mention here. We love online chess because the strategy game allows both partners to use their brains and be at their best—what else do you want on a date?
Our Top virtual date games at a glance
Our best virtual date games are:
6 Best Virtual Date Games
We now cut the chase short and move towards our list of the best virtual date games. Grab your console, and get your date on-call as we move towards the best virtual date games:
Best Tactical Game
Online chess is perhaps the best multiplayer chess game available today. Online chess has a simple UI and can allow multiple players to challenge each other simultaneously. The success of Queen's Gambit on Netflix has opened the doors towards more interest in chess gaming online.
Tactical games can be a good way to explore options during a date night. You can challenge each other and enjoy a tactical game of sacrificing pawns for casual fun. Just don't be a sore loser when you're at it.
Online chess has exciting features, including how you can keep a game running for multiple days. Continue your date nights from where you left them.
You can improve the experience further by playing the game on your desktop or laptop and then using your mobile for messaging or video calling your significant other.
Price: Free to use
Pros
Easy to understand, with tips for new players.
Smooth multiplayer interface
Good connectivity
Continue games from where you left
Cons
Chess can get boring at times.
Dependent on internet connectivity
---
Best Saucy Game
The Ultimate Game for Couples card set is perfect for long-distance couples or those who are virtual dating. The Ultimate Game for Couples is perfect for a good Saturday night when you can grab your favorite snacks, connect to your partner through a video call, and play this exciting game.
The Ultimate Game for Couples does come as a card set, but you don't have to buy two different sets of the same game. One partner can buy the card set and connect with the other partner over Facetime, Whatsapp, or Zoom. When it is time for the other partner's turn, you can show the card's face to them over the camera. Sounds easy, right?
The cards in the Ultimate Game Set for Couples are hilarious and even saucy. The questions asked within the cards will either lead you into some soul searching or open doors towards a saucy moment over the camera. Some of the questions are ridiculous and funny, so plenty of casual laughs are involved.
Price: $31.06.
Pros
Good for casual, light-hearted fun.
Best for dating couples
Purchase one time, and enjoy multiple times
Cons
Some of the cards cannot be done virtually
---
Best for Introspection and Questions
Table Topics is pretty similar to the Ultimate Game for Couples. The game consists of cards and should be purchased rather than downloaded. The game contains a set of cards, including questions you can ask your partner.
The method for playing Table Topics is similar to the Ultimate Game for Couples above. One couple is required to own the full set of cards. The cards contain questions that each partner is required to ask the other.
You can play the game through your smartphone camera, where both partners take turns answering the questions. The questions in the game are mostly serious and don't have the sauciness of the Ultimate Game for Couples. This is perfect for couples just starting their dating journey and aren't yet ready to explore the raunchy side of their relationship.
Price:$25
Pros
Best for new couples
Serious questions that lead to introspection in the relationship
Good for casual fun
Good date night questions
Cons
The game can get boring after a while.
---
Best for Action-Packed Fun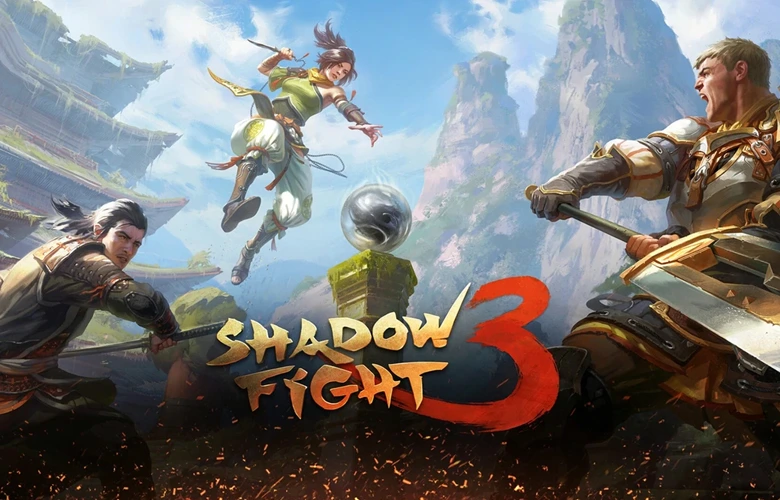 Shadow Fight 3 is the third edition of the classic competition battle, where fierce warriors go head-to-head against each other. 
This classic edition has a pair of solid warriors thrashing each other to enjoy the fruits of victory. 
Although these classic one-on-one fighter games haven't garnered as much attention as they would have liked, the Shadow Fight series is still a huge success. The game is one of the best when it comes to this genre of gaming on mobile devices.
Couples can add action-packed fun to their dates and make them competitive by playing Shadow Fight 3. The game is fun for casual action and can add competition to the date.
The real reason why Shadow Fight 3 has been garnering praise ever since it was released is that this edition shows some interesting battles through great graphics and quality. The previous versions had limited graphics since users could only fight through featureless, black figures. 
However, all of this has changed in Shadow Fight 3, as the third edition in the series brings out the action through excellent graphics and lighting. This is done through various new fighting styles, great graphics, and new weapons for the main protagonist to brutalize enemies.
Interestingly, button-mashing won't work here, as Shadow Fight 3 requires expertise that can only be achieved through expertise in what you are doing. You need to have proper timing and form to succeed. The game garnered many positive reviews from users in the previous year, and if its success in the past is anything to go by, Shadow Fight 3 will be a super hit in the years to come as well.
Price: Free to install with some in-app purchases.
Pros
Action-packed fun
Good for competitive fun
Free to play
Cons
Requires good internet ping for multiplayer mode
---
Good for Building Relationship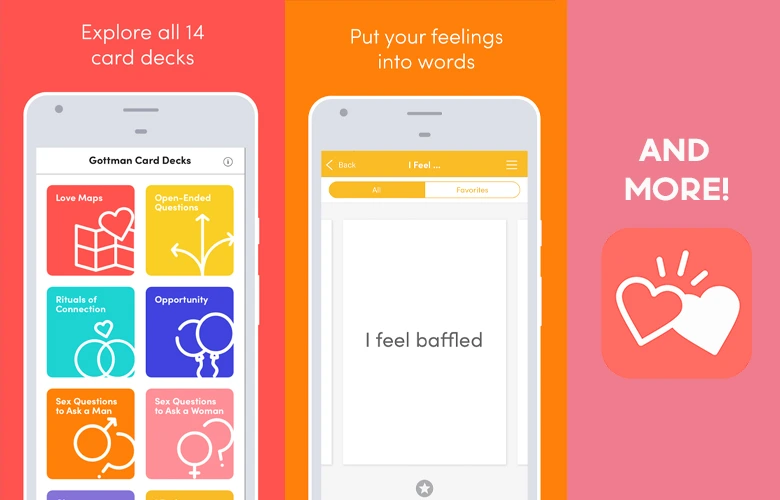 The Gottman app is perfect for building your virtual relationship and taking it to the next step. The Gottman Institute is renowned across the globe for the games they curate and how these games can help strengthen your relationship with your partner.
The Gottman app comes with 1,000 flashcards that can be used to enjoy an enthralling online experience with your partner. 
Long-distance or virtual couples can do with the introspection that helps strengthen their relationship. You can take it a step further by gifting your significant other the Eight Dates Book by John Gottman.
Price: Free to install with some in-app purchases.
Pros
The app provides unique flashcards.
Cards help strengthen your relationship
Intriguing
Cons
Cards can be a bit repetitive
---
Best for Raunchy Fun
If you are in the mood for raunchy fun, you can buy online truth or dare cards for your partner. Online truth or dare can be fun and can cut down on the distance.
Virtual couples can choose cards from the truth or dare set and can challenge each other to some harmless fun. Some cards will not be applicable due to the distance, but you can always have fun with the other cards.
The method for playing the game should be similar to the other card games mentioned above. One partner should get the card set and then flip cards in front of the camera. The partner should fairly take out cards for the other as well, and then directly display them on the screen to make the game interesting.
This truth and dare game set is meant for dating couples and will add some saucy fun to your dating life. What's more, you and your partner will be able to bond better over the experience.
Price:$8.95
Pros
Help improve bond
Good for some saucy fun
Increase attraction
Cons
Some cards aren't applicable online
---
What to Look for When Choosing the Best Virtual Date Games?
Finding and choosing the best virtual date game can be a complex task, but one that you can simplify by considering a few factors. We now mention some of the factors you should consider during your purchase and how you can simplify the selection process:
Level of Excitement and Engagement
Perhaps the most important factor you should consider in a game for your virtual date is the engagement level. The game you play should be exciting and engaging. You don't want to have a boring date, which is why it is best to read up on the game online before you select it for your date.
Cost of Game
Secondly, you need to consider the cost of the game as well. A good game for your virtual date should be affordable and not break your bank. If you are lucky, you can even download a free multiplayer game to get the best out of your date.
Some of the virtual date games we have mentioned in this article are free. You will, however, have to buy the card sets.
Options and Monotony
You will also need to consider the varieties available within the game. A good game should have multiple varieties available to break the monotony. A game of chess, for instance, can break monotony through different tactical moves. Additionally, an action game can come with multiplayer modes for different settings if you get bored with one.
Your Preferences
Lastly, you should consider your preferences before making the eventual purchase. You should know what you and your partner like and which game would best appeal to those interests. A good game of chess would work best for tactical purposes, but you can go for something more casual, such as a game of truth and dare if you want something less formal.
The ultimate choice comes down to what best works for you. There is no one pick for the best virtual date game, as you will choose what works well for you and your partner.
Frequently Asked Questions
Our readers have some questions related to the best virtual date games. These questions are answered below:
What are Virtual Date Nights?
Virtual date nights are dates that are hosted online. Virtual dates are pretty similar to real dates, only that there is no real-life interaction. Virtual date nights can be fun to be part of, and some people opt for them even after being near each other.
Virtual date nights gained popularity during the COVID-19 pandemic when many people had to take their dates online. The lockdown changed norms and led to the trend of virtual dates.
What is the Best Online Dating Game?
It is hard to find the best pick, but a good game of online chess can be great for your relationship. Chess has been around for ages and has been a good way to evaluate strategies. Chess requires two partners to tactfully move their pieces and get the best outcomes.
Do Virtual Dates Count as Dates?
Virtual dates count as real dates, only that the dynamics are different. A virtual date can be exciting and even saucy if both partners play their cards well and are imaginative. Virtual dates count as true dates and can open the door to fun in the future.
Conclusion
In conclusion, it is important to reiterate the rising number of virtual dates. People nowadays have ditched blind physical dates for virtual ones that can help them connect.
Once you proceed forward in your virtual dating experience or have a long-distance relationship, you will want to amplify the experience with some virtual dating games. 
We hope our picks, including a good game of online chess, will meet your expectations and give you a good experience.