Dating in 2023 is…well, complicated because it involves a wide range of factors and emotions. No wonder there are different concepts to describe the dating space, including situationships, friends with benefits, hooking ups, and the greatest of them all: casual dating.
Now, casual dating has always been a thing. But we can all agree that it has become more prevalent in recent years. One of the reasons why it is on the rise is due to dating websites.
While casual dating websites have experienced growth in recent years, they have come with their fair share of romance fraud, catfishing, and fake profiles. Safety has become a significant worry considering that most people lie about themselves on these sites. However, this doesn't mean you can't find genuine people on casual dating platforms.
The good news is that most of these casual dating websites have listened to these concerns and taken extra security to eliminate scammers and fake profiles and keep your dating life private. 
Here is a rundown of the ten safest websites for casual dating. 
Let's dive in.
List of safe casual dating websites 
---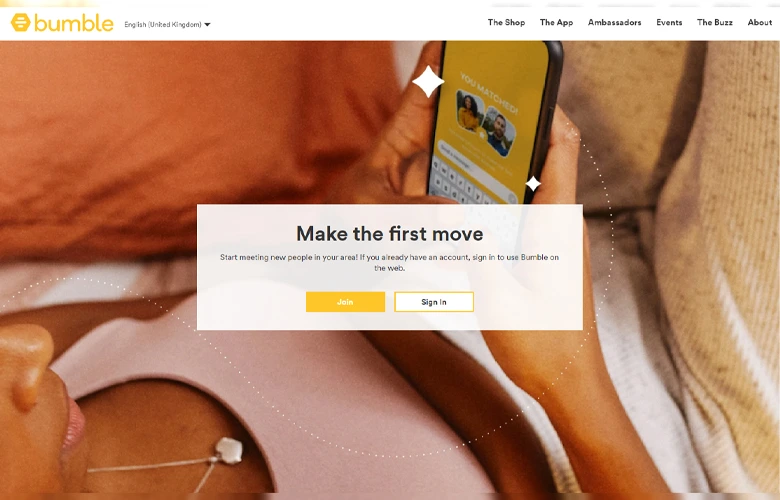 Bumble is a platform that seeks to provide women with a safe online dating experience. It's also one of your best bets if your money is tight and you can't afford to invest in paid sites. You can access most of the site's features with the freemium model but with adverts after several swipes or opt for premium features with the in-app subscription. 
How Bumble Works
As you might already know, women are an easy target for online scammers, and safety is a priority when it comes to how Bumble operates. This site stands out from other popular casual dating sites because women make the first move. Immediately a match is made, they have 24 hours to respond before the match disappears.
How Safe Is Bumble?
So far, Bumble has gone out of its way to ensure its users' safety. Recent polls show that 77% of women felt safer finding a date on this site than on other casual dating sites. And it's easy to see why. 
Here are some of the security measures that Bumble has put in place:
Profile Verification
In an effort to continuously weed out fake profiles, users must verify their profiles to add an extra layer of protection. So, you're comfortable starting a conversation with a match, knowing that the person you're interacting with is exactly what their profile says. 
Video Calling Feature
Hands down, the calling feature is all about creating a safer dating experience. You can make a first move with a quick video call to get familiar with your date. 
And the best part? There's no need to exchange numbers; you don't have to worry about your personal information if the date doesn't work out. 
The Block Feature
Bumble condones abuse, sexual harassment, or any behavior that violates its community guidelines. If you feel uncomfortable or notice any bad behavior with a date, you can block them and file a complaint with the safety team. The team will review your complaint and may warn or ban the user. 
Private Detector
Bumble's private detector automatically blurs inappropriate images and protects you from sexual harassment. But you can view, delete or report the image. 
Bumble has significantly invested resources to ensure it's a safe casual dating website. Well, this doesn't mean you won't find some weird profiles on your feed, but these safety measures keep them at bay. 
---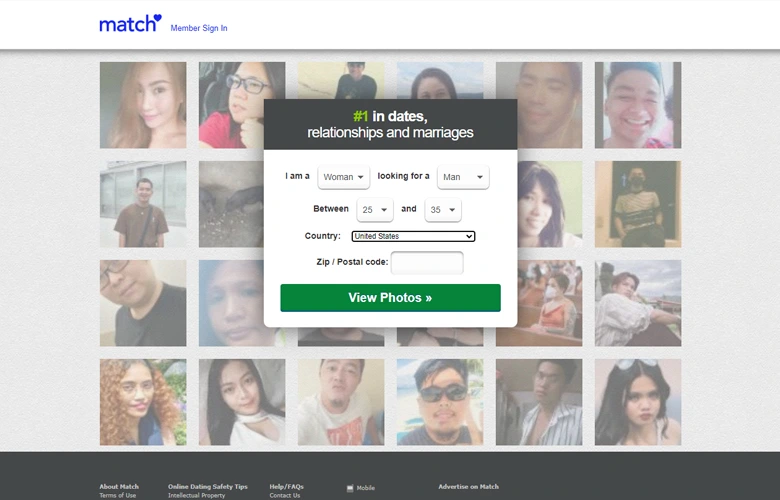 Match.com has established itself as a safe dating website since 1995. Without a doubt, it is a strong player in casual dating. 
This site enjoys massive popularity with its large number of users, meaning that you will never run short of meeting new people.
How Match Works
Match uses a rigorous personality quiz as its matching algorithm and uses this information to match you with other users. This platform offers you new personal matches every day, and you can filter these profiles to find someone you're interested in. After finding a match, you can message and get to know them. 
How Safe is Match?
Match is a safe casual dating website that has put safety measures in place to improve its security. Here are some of the measures that are currently in place:
Verification
Match sends an activation code and requires verifying your profile using your phone number, social media, or email. In addition, you must upload your real profile picture, which the moderators vet before your profile appears on the platform. This verification process eliminates fake or inappropriate profiles.
Free Background Checks
Match is working with Garbo to add more safety tools to its platform. You can now conduct a free background check on a match to check their history of violence or abusive behaviors before you meet them in person. This feature protects you from unscrupulous profiles with abusive histories. 
Date Check-In Feature
Suppose you have arranged to meet with your match for your first date physically. Match has a date check-in feature that notifies three of your contacts of the name of your date, your location, date, and time. This feature sends an automated message to check if the date is going well and if you wish to notify your contacts of any danger. 
Report Feature
You can report an inappropriate profile that violates the website's Community Guidelines. The support team will investigate the matter and ban or warn the culprit.
---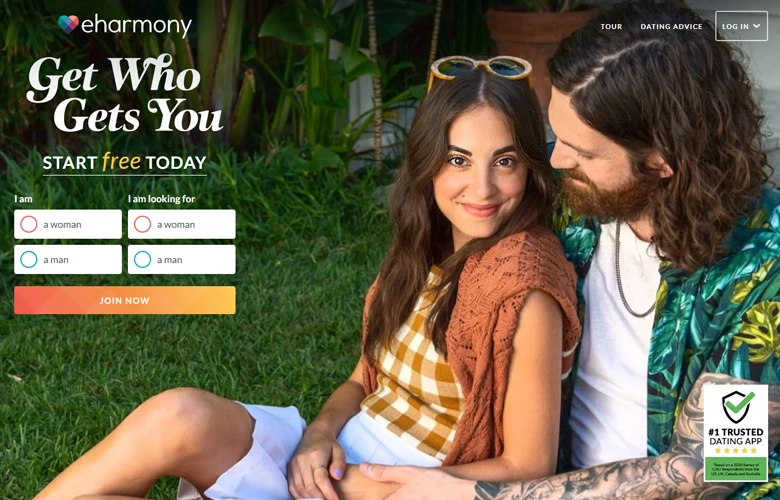 EHarmony is another popular casual dating website, and it's for a good reason. This site has a large community looking to connect, and it matches you with what you're looking for. Since its establishment in 2000, eHarmony has built its reputation as a trustful dating website. 
How eHarmony Works
For one, you must answer an in-depth compatibility quiz to complete your eHarmony profile. You must answer 80 questions that analyze your personality depending on your lifestyle, dislikes, and behavior. This site then matches you with potential profiles that are highly compatible with your personality. 
How Safe is eHarmony?
Just like other popular casual dating websites, eHarmony has put different security measures in place for the safety of its users. Some of these measures include:
ID Verification
eHarmony goes further and screens users against criminal registries to remove any suspicious profiles. The platform also uses RelyID, a third-party service, to verify profiles and ban those with fake identities. This service lets you quickly identify if your match's profile is verified. 
The Video Calling Feature
eHarmony offers premium members the video calling feature to plan virtual dates after messaging each other on the platform. This feature prevents random members you're not interested in from calling or sharing your phone number.
The Extensive Compatibility Quiz
To join the site, you must sign up via Facebook or email, after which you must complete an 80-question compatibility quiz. In theory, this rigorous sign-up process tends to discourage fake profiles, and you are assured that you're connecting with matches who are what their profile says they are.
Paid Membership
You have to pay for a subscription to get the eHarmony full experience. This paid subscription is expensive, which deters users with bad intentions. 
Profile Audits
eHarmony's dedicated safety team audits user profiles to weed out fake profiles. This team also reviews and takes action on flagged profiles. 
---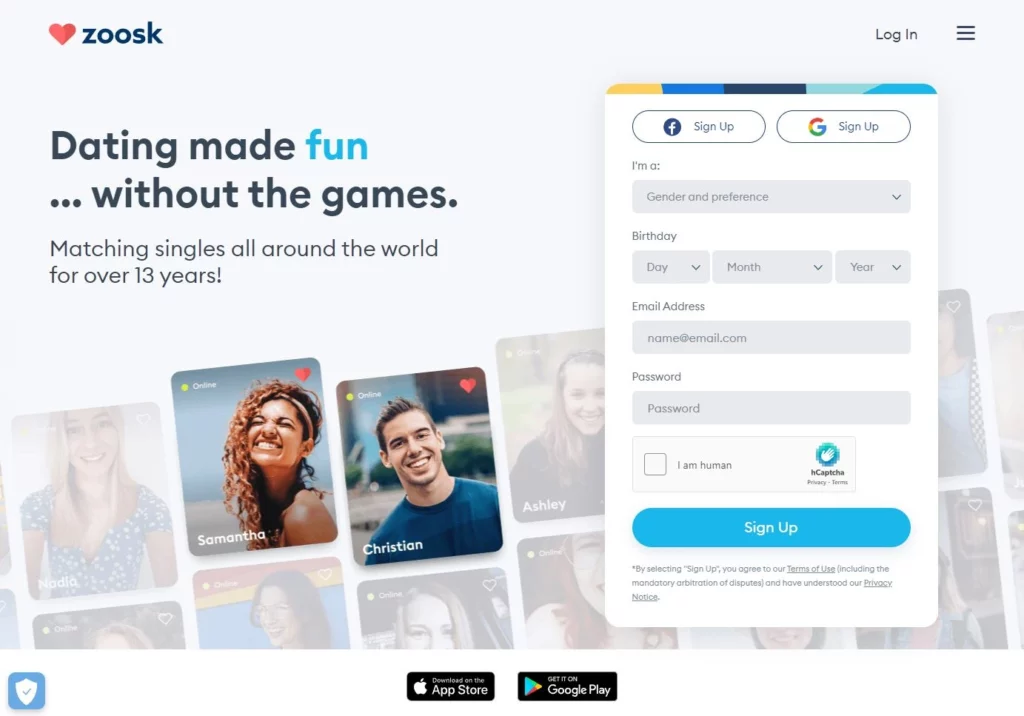 Zoosk is a fun and simple casual dating website with 40 million users, and it's more of a combination of a dating website and a social media platform. This site offers its members many communication tools, including profile likes, instant messages, and virtual gift options.
How Zoosk Works
Zoosk uses innovative algorithms that monitor a user's behavior and uses this information to personalize future matches. Interestingly, this matchmaking technology personalizes by analyzing the profiles you have interacted with and suggests a match based on this analysis instead of your preferences.
If you are interested in the match, you can message them like other dating websites. But Zoosk takes it a notch higher by recommending suitable matches depending on how you answered your profile questions and previous interactions. 
Looking at it, it's a convenient and time-saving approach though you can still filter through the profiles and swipe the ones you like.
How Safe is Zoosk?
Zoosk is a safe dating website thanks to the different security measures the platform has put in place, including:
Photo Verification 
Zoosk requires users to verify their profiles by taking a photo of themselves and uploading it to their profile. This step proves that a profile is real and reduces your chances of interacting with fake profiles.
Zoosk Insignia System
The Zoosk Insignia System sniffs out scammers who claim to be active military personnel. This site requires you to upload valid proof of active duty, and a military verification badge will appear on your profile once vetted.
Blocking Features
Zoosk follows a no-harassment policy, and you can block anyone who is inappropriate or makes you feel unsafe. In addition, the website has a safety guide that offers tips on profile safety, meeting in person, and identifying fake profiles and scammers.
---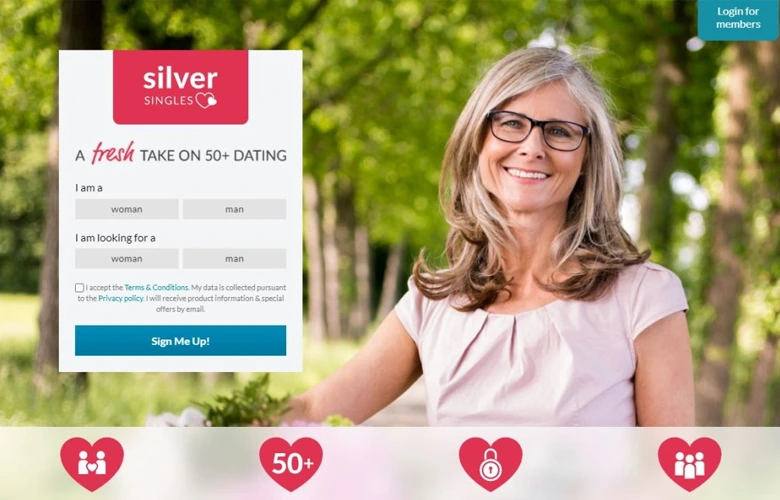 SilverSingles is a safe space for online daters who are over 50 years and are looking for a casual date, friendship, or a serious relationship. This site has impressive privacy features and strict membership requirements that keep users safe as they interact online.
How SilverSingle Works
Once you sign up, you take a quiz based on the Five Factor Model theory for personal traits about your personality, lifestyle, and preferences in detail. Once you've signed up and created your profile, the site will send you compatible matches within your area. They will continue to send you new matches until you meet your date.
How Safe is SilverSingles?
SilverSingles is a safe dating website, and they have the following security features in place:
Account Validation
The customer support team vets every new profile to determine whether it is authentic and valid and filters out inactive members. You must also upload your real picture – the website does not allow copied or downloaded photos, and the support team manually checks and validates any photo or profile before posting. 
Limited Private Messaging
Apart from the rigorous sign-up process, you can only send private messages to your matches if they have subscribed to either the three-month, six-month, or 12-month subscriptions to discourage fake profiles.
Automatic Filters 
The basic SilverSingles membership is free but offers limited user profiles and features. You can see their users' profiles with a free membership, but their photos are blurred. So you have to pay for the subscription to enjoy the premium features.
Fraud Detection Systems
SilverSingles uses Secure Socket Layer (SSL) to encrypt any information you enter on the website. The website also has a Fraud Detection System to protect users from scammers. SilverSingles doesn't share personal information with third parties. 
---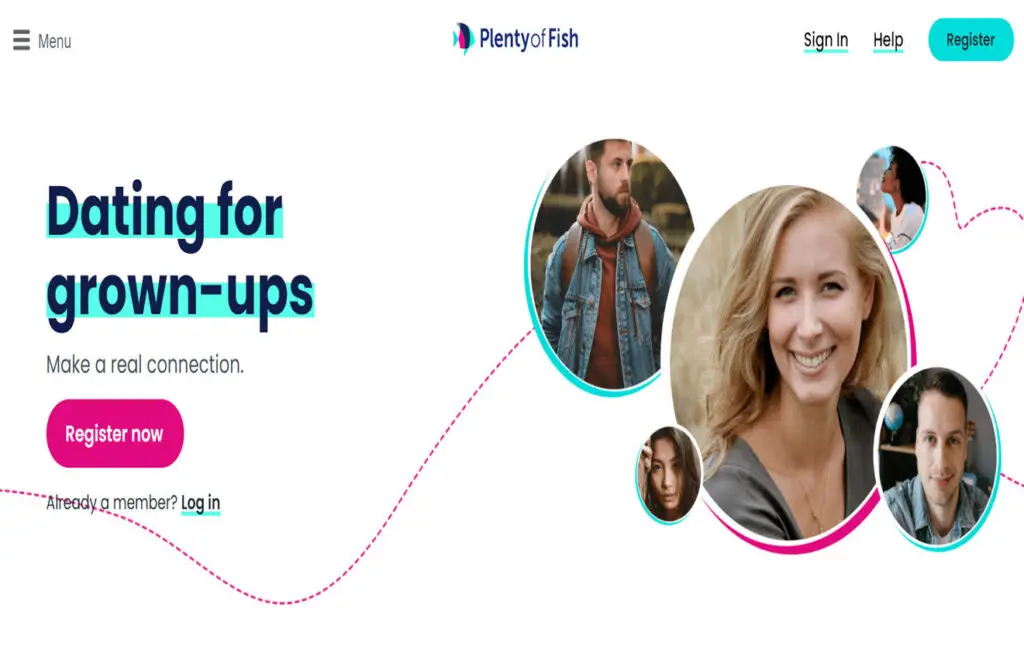 Plenty of Fish is famous for its free features, from profile photos to messaging, making it stand out for users looking for an affordable casual dating experience. 
But there's a catch. 
The website has added new features, including a compatibility test and Cue Me!, a game with a series of questions to learn more about a user. But you can't access these features with a basic profile. 
The website is revolutionizing the online dating experience. Instead of focusing on photos, Plenty of Fish encourages users to get to know each other through messaging and compatibility before swiping left or right.
How Plenty of Fish Works
Getting started on Plenty of Fish is simple, and completing your profile is free. Once you provide basic information, like your name and location, it will direct you to set either casual or serious preferences. Once you finish this step, you can browse the profiles for a match.
How Safe is Plenty of Fish
Plenty of Fish takes the safety of its users seriously, and they have gone a step further to ensure a safe dating experience by taking the following security measures:
A virtual Bodyguard
Plenty of Fish has partnered with Noonlight, a security app, to develop a virtual bodyguard. This app shares the details of your upcoming date, including the location, name of your match, date, and time. In case of danger, the app sends a silent SOS to the authorities.
Photo Verification
When completing your profile, Plenty of Fish requires you to self-authenticate through a series of real-time selfies. The website will then scan your photo for legitimacy; if it's fake, it will delete your profile from the platform. 
Live Streaming Feature
This site has a live-streaming feature where you can live-stream with your match and ensure that the person you're dating is authentic and matches their profile.
Frequent Account Audits
Plenty of Fish conducts frequent account audits to remove any spammy or suspicious profiles from the site and maintain a safe environment. 
Face Filter Ban
Plenty of Fish does not allow filters on your photos as it's against its community guidelines and nullifies any photo with these filters. The face filter ban aims to maintain authenticity along with user privacy. 
---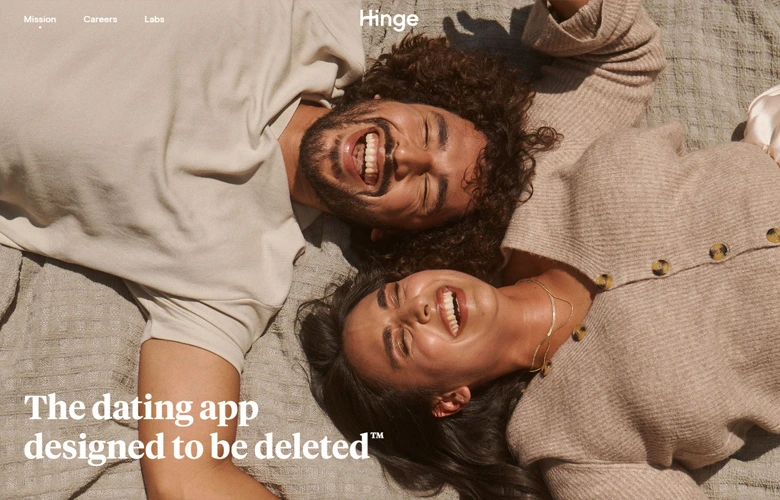 Hinge is an online dating platform with a unique spot, and it sits somewhere between a serious and a casual dating site. One thing that sets Hinge apart from other casual dating websites is its features. This platform is trying to move away from the cliché of swiping. Instead, you must comment on something specific about your match. 
This simple act of liking or commenting on something specific makes it a conversation starter. The highlight of this site is that you can land a match with free and premium profiles since you're free to use all the unique and robust profile fields.
How Hinge Works
When signing up on Hinge, you must fill out basic information, upload six photos and answer three prompts. This site uses a Gale-Shapely algorithm to pair you with a match based on your interests. The trick is to be active to have more compatible matches by commenting on or liking profiles.
If you like someone, you can send a rose to show interest. You will make a connection when a user likes you back or responds to your comment, and you can start a conversation. Interestingly, you must first create a mutual match to send any message.
Is Hinge Safe?
Hinge is committed to ensuring that your personal information is safe and constantly invests in security practices for a safe online dating environment through 
Selfie Verification
Hinge verifies your profile through selfie verification, and if successful, your profile will get a verification badge that proves you're real. With the verification badge, you can also see verified badges and decide who to interact with on the platform. 
Limited Matches
Hinge targets potential matches who might be in your social network, and this security feature makes it easier to find out more about your match by asking people in your network. You can also get personal information about your matches from the site before meeting them. 
Paid membership
Though you can still find a match with the free version, you can only like ten profiles in a day, and for you to like more profiles and find a match, you must upgrade to a paid subscription. Paid membership minimizes the chances of scammers or fake profiles choosing this site.
---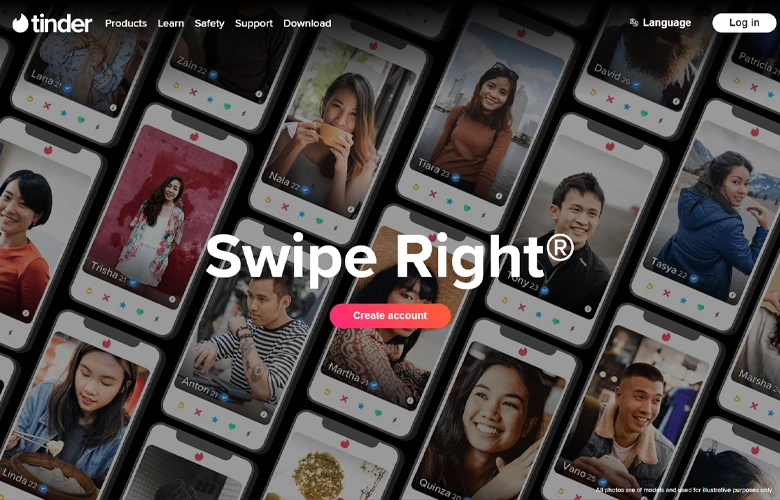 You might have heard about Tinder, one of the most famous casual dating sites. Since its launch in 2012, Tinder has been known as a hook-up site, but this is not the case for everyone. Some users have met long-term partners and spouses on this platform, which gives you control over your matches. 
How Tinder Works
Tinder works by swiping. Once you set up your profile, you can start finding matches. Each profile has a photo, age, name, and passion information. If you like the user, swipe right, and you can only connect with them if they also swiped right for you. At this point, you'll receive a message that you're a match and can start chatting with them.
On the other hand, if you don't like a profile, you swipe left. But if you're undecided and want to know more about them, you can read their profile and see more pictures. 
Is Tinder Safe?
Tinder aims to build the best security and ensure users have a safe and private site to connect to and date. Users can access many safety features to protect them from scammers and fake profiles.
Photo Verification
Tinder encourages photo verification to eliminate fake profiles. The process is simple, and all you need is two selfies. You will receive a blue checkmark once the verification is successful. 
Panic Button
If you have planned to meet with your match physically, Tinder's panic button feature discreetly sends SOS notifications to your contacts in case of an emergency or danger.
Message Reporting 
It's not surprising that you can be harassed or abused on online dating sites. So, if a match makes you uncomfortable or sends inappropriate messages, you can report them to the support team for them to take the necessary action.
Criminal background check 
You can easily conduct a background check on your matches to protect yourself from criminals and abusers. Tinder collaborates with Garbo to minimize gender-based crime on the dating website. 
Tinder Safety Center
The Tinder safety center offers tools, guides, and resources on being safe on the dating platform. It also provides information and tips on how to deal with cases around harassment, consent, sexual abuse, and the basics of safety when using Tinder.
---
If you are looking for a casual dating website that works better than Tinder, Badoo is the perfect option. It is the world's most used dating app, and just like Tinder, it matches you based on physical appearance alone. 
Setting up your account is simple. You only need to log in with your social media account or phone.
How Badoo Works
Once you set up your profile, you can browse other user profiles using the Encounters features, and you can click the heart icon on the user's photo that you like, and if they click back, you are matched, and you can get to know each other. Otherwise, click the X button if you are not interested.
How Safe is Badoo
Badoo is a safe casual dating website that has invested in improving its security features over the years. Here are some of these features:
Account Verification
Badoo has made account verification easy. It has introduced the option to request and share your verified social media accounts on the site, giving you control over how much to share about your personal life.
Block Button
The block button allows you to stop contact with a match on the site immediately. The best thing about this feature is that you can block users and report them to the support team for relevant action. 
Private Detector
Badoo strives to eliminate sexual harassment through the private detector feature that automatically blurs and reports inappropriate images. This innovative feature allows you to delete, accept or report the image. 
---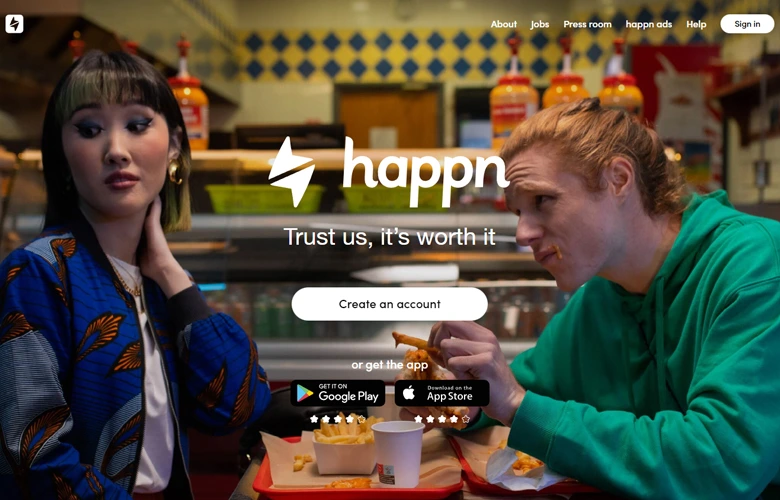 Happn dating platform is the new kid on the block, but you will be impressed with what the site offers. It's a breath of fresh air from the endless swiping found on other casual dating websites.
The selling point of this site is convenience, and it matches you with users near your location.
How Happn Works
Like most other casual dating websites, Happn matches you with users who you might actually meet during your day-to-day activities. 
You can set the distance and extend it to 55 miles, and the closest users' profiles will appear on your feed. With this site, you can check on the Happn map if you've crossed paths with your matches, who remain on your map for a month. 
If you want to match with a user, browse through the profiles, and you will see the word NOW for matches within your range. However, this app doesn't reveal the exact distance. 
Interestingly, you can see a list of users you've crossed paths with, and if you are interested, you can click 'heart' on their profile and wait for them to 'heart' you back. If they do, you are matched and can start exchanging messages. 
How Safe is Happn?
Happn is a safe casual dating website that invests in operational and technical resources to ensure the safety of its users. It has put the following safety features in place:
Account Verification
To create your Happn profile, you must have a Facebook account to verify your account, which makes it difficult for scammers to create fake profiles. 
Report Feature
If a match makes you uncomfortable, disrespects you, or you suspect they are using a fake profile, you can report them to customer support, who will investigate and take the necessary steps.
Photo Verification
Happn does not accept copied or downloaded photos. Your profile must have your photo to guarantee authenticity and reassure your matches that your identity is real.
---
Safe casual dating websites protect you from fake profiles and scammers. These ten websites have invested in the best security and safety features to offer you a safe environment to form a genuine online connection that can thrive in the real world. 
Before signing up on any casual dating website, take time to determine how it protects its users.