Online dating can offer the same experience as real-life dating. Even better, seniors can meet their next match online and live happily ever after!
Are you a senior over 50 looking for a free dating site to try modern dating? Read on to find out our six best free dating sites that will give you a moderate experience without breaking the bank.
We also offer advice on factors to consider when choosing a free dating site and give practical tips to help you navigate online dating and dating in general. 
And in the end, we answer some of the frequently asked questions regarding senior casual dating.
Keep reading to learn all these things and more.
Look For These On a Senior Casual Dating Site
Before choosing a dating site, consider the following factors:
Accessible features with a free plan because most of them limit features in the basic plan
Where you live, as some are only accessible in specific locations. Besides, prefer one that matches you to people near your location.
The kind of relationship you are looking for. Whether it's a hookup or casual relationship as some dating sites are designed better for hookups, while others are for casual hookups or serious relationships. 
Security; this should be a priority, as free versions are accessible to anyone, including scammers. However, some sites will use tiring sign-up processes to discourage more people, especially the unserious ones. 
6 Free Dating Sites For Seniors
We classify these dating sites into two categories: exclusive senior dating sites and dating sites open to all but with a massive pool of seniors. 
Exclusive free casual dating sites for seniors
---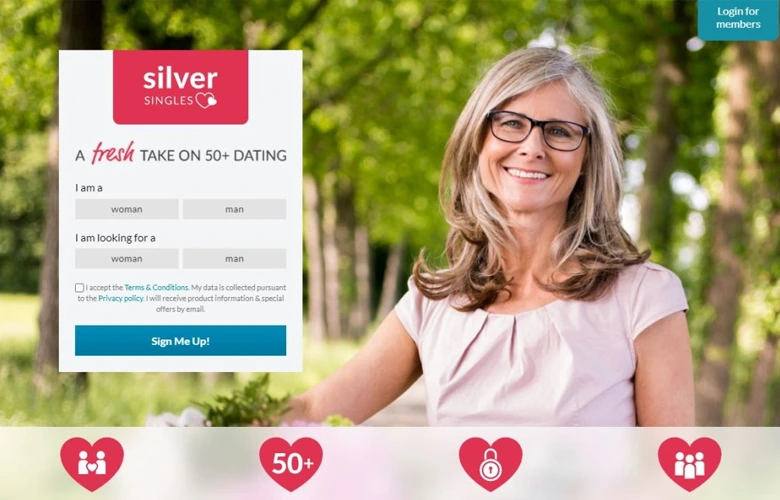 SilverSingles tops the list because it has a strict age limit of 50 and above. This means it mainly contains serious over 50s looking to mingle.
This site's free trial has no time limit, so you can use it for as long as you want. Besides, they don't request credit card information when signing up for the free trial, which is ideal for elite singles who are uncomfortable sharing their financial information.
Some of the features you enjoy with the free trial include:
Personalizing your profile to your liking
Accessing bio and personality information for every match
Finding matches near you
Seeing compatibility results for every match
Reading messages from matches and other users
Sending smiles to matches
However, you are limited to features like;
Viewing profiles of those who view your profile
Sending and replying to messages
Seeing unblurred pictures in profiles
Pros
Adding matches to the favorites list
Numerous matches based on your profile and location
An ad-free experience
Ability to filter matches to reduce the list
No time limit to access basic features
Cons
You can't view profile photos of your matches
---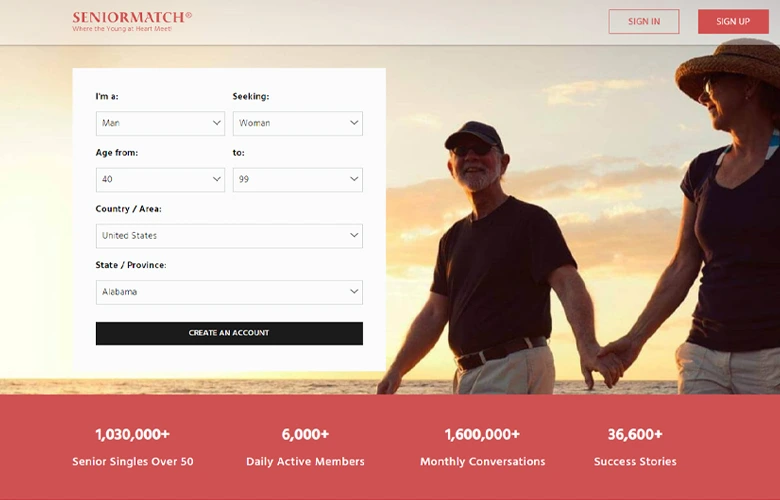 SeniorMatch caters exclusively to singles over 45. Being a part of the SuccessfulMatch family, a company that runs several online dating services, SeniorMatch compiles results from potential matches across their company sites to find you a potential match.
Like most dating sites, they offer free membership and premium plans. The free membership plan has basic features but remains convenient compared to other dating sites.
With their free membership plan, you get to:
Reply to any messages sent
Leave comments on photos and profiles
Search for matches by gender, age, or location 
Send winks to your matches
Add photos
You can communicate with a successful match with access to all these features. The ability to reply to messages attracts users, as most free dating plans don't allow this feature.
But like most dating services, you can't access advanced features with a free plan. For example;
Editing notes on other's profiles
Better customer care facility
Access to features like reverse matches
Pros
Access to let's meet features
Editing messages using advanced tools on the site
Finding someone with their username
Ability to post first-date ideas
Cons
Not available to everyone across the globe
---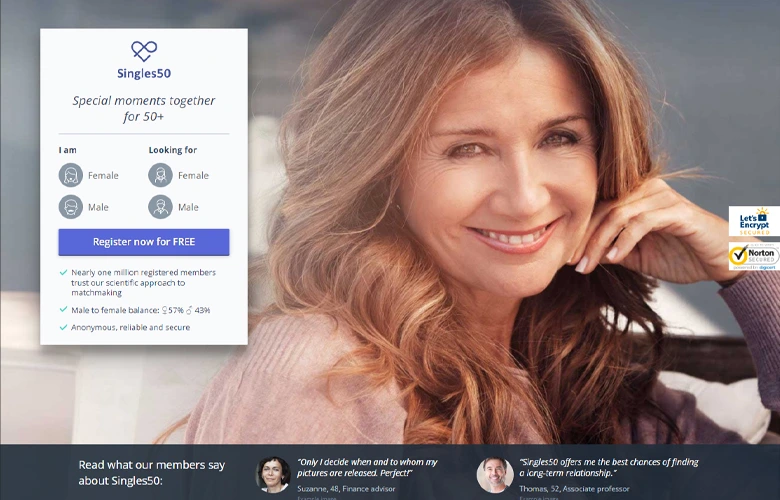 Singles50 only allows users over 40 to access their services. It uses a scientific approach to help match individuals by requiring everyone to take a personality test.
They use information from your personality test to find a match. The site invests in this approach because it intends to help users find long-term partners, not casual flings. 
This site has been in the market for a long time, which means they've mastered ways to assist with matchmaking. 
Their free plan offers:
Reading one first message
Taking a personality test
Sending messages for free if you are a woman
Unfortunately, this site only offers a few features on its free plan. So users are forced to upgrade to a premium membership to enjoy most of their features. 
Pros
Browsing through user profiles
Use of scientific approach to match users
Straightforward usability
Cons
The free plan mainly favors females
---
Despite no age restriction, OurTime focuses on catering to singles over 50. The site matches individuals based on information in their profiles. Your interests, hobbies, and personality traits are the main focus. 
Both senior men and women are welcome to try the site. Depending on your effort, you can meet genuine people who want the same thing as you. 
OurTime free version offers basic features like;
Sending limited likes a day
Searching profiles
Seeing profile views
Pros
Easy to use both on Apple and Android 
Features a streamlined dashboard with huge photos and prints
Cons
You can't use their messaging service with a free version
---
Dating sites open to all, with a vast pool of over 50s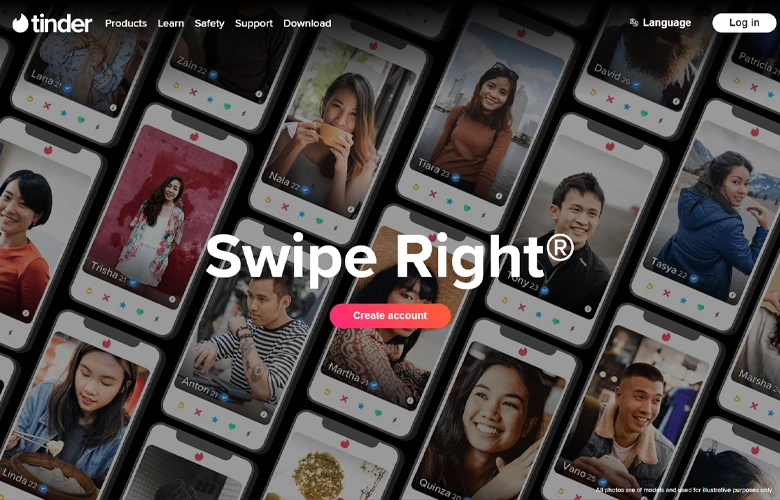 As a popular free dating site, Tinder attracts millions of users across the globe. As such, there is a massive pool of singles over 50 looking for casual flings and serious relationships. 
Keep in mind that some of these profiles are for dead accounts. So if you like someone's profile, do the work to find out if they are active.
Be upfront in your profile to save your time and that of other users. Specify if you're looking for a casual fling or a serious relationship. 
With a free plan;
You can swipe right or left to accept or reject someone
Get compatible matches in your location and see how far they are
Flip through photos
Read bios
Of course, a premium plan offers better features, but I must admit, Tinder's free plan works just fine. 
Pros
Easy to navigate
You match with people near your location
It's international, with over fifty languages
Cons
Limited features with a free plan
Users rely on matches provided by the algorithm
To retake the personality test, you'll need to talk to the customer support 
---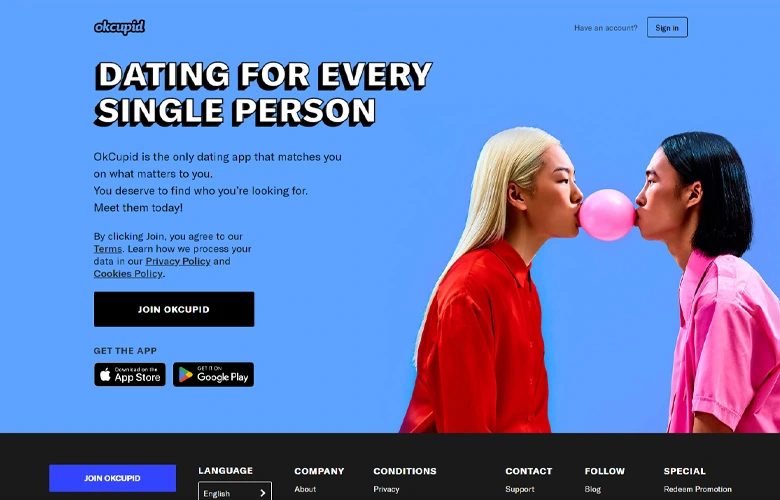 OkCupid is another popular dating site that has been around for years. And though it's open to every member regardless of age, it has a huge number of singles over 50 who are ready to mingle.
Besides dating features, it offers advice and tips to help you navigate dating with ease. You can find this information on their blog page.
With a free version, you;
Can like and receive likes from other users 
Can see all your matches
Can update most of your preferences
Can use the "Quickmatch" function
Can message users you like and like you on the messaging page
Pros
You only receive messages from someone you've liked, so no unwanted messages
Tons of interesting over 50s profiles
Cons
It tends to mostly favor men looking for women over 50, as most senior singles are women
---
As a senior over 50, online dating can be overwhelming. Here are some tips to help you navigate the dating pool:
Watch out for individuals who've lived off their spouses
Since you're looking for seniors to mingle with, it would be naive to assume that the people you meet have never been in relationships. Most of them might be divorced. 
That said, watch out for people who didn't work but lived off their spouses. Such people will have statements like "looking for a generous man or woman…" or "I'm a good catch if you can afford me" in their profiles.
Such a person might manipulate you, provided you can offer what they need. 
Do all the work 
Dating apps and websites match you with profiles rather than people. Even worse, most of them create matches based on one or two items in your profile. 
And as you can imagine, thousands of dead accounts are undeleted from previous years from those who settled down, gave up, or even died. 
As a result, depending on what you're looking for, it's up to you to do the work. Engage your matches to find out if you are compatible. 
In addition, don't rely entirely on the hype of matchmaking. These companies have the same problem with users: they misrepresent and change their minds about what they want.
So it narrows down to you. Are you a good communicator? Can you express yourself and give others a chance?
Results are not promised, but you can make something out of it, so do your due diligence. 
Prioritize popular dating sites as they increase your chances of meeting people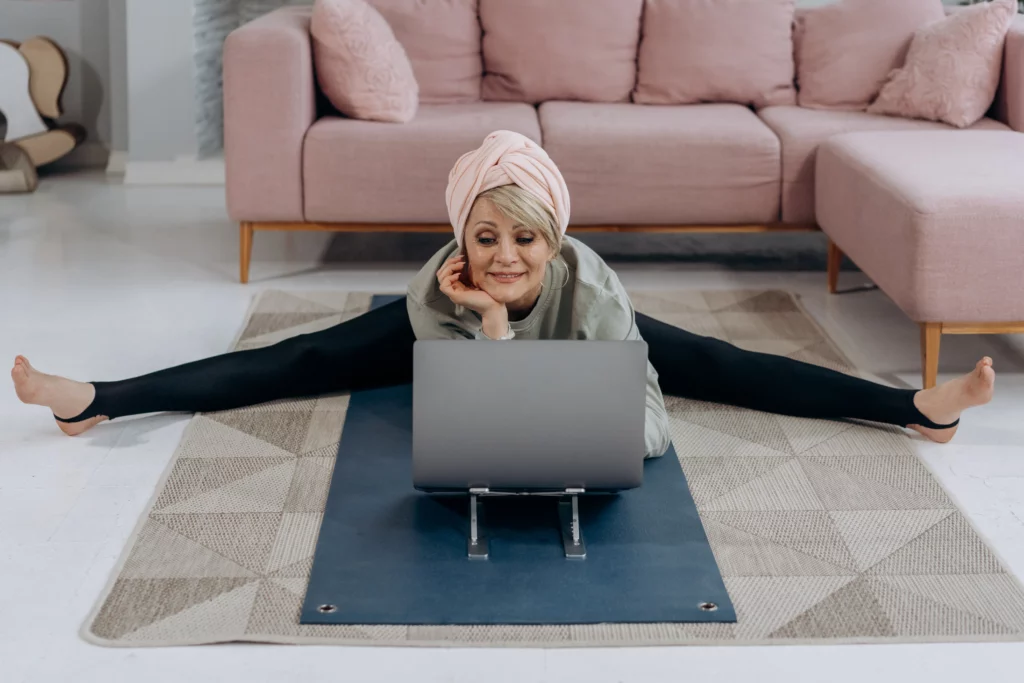 Big sites are popular because so many people use them. So prioritize them and optimize to meet more active users where you can filter the most compatible.
Meet matches in person after engaging for some time
When you get compatible matches, engage them for some time (3 to 5 months), and if you seem to like each other, meet in person. 
However, no matter how nice they seem, don't rush to meet people. Also, if they suggest a meet-up and seem to push it excessively, don't go. 
Know you're meeting strangers, so ask everything you need to know
Once you meet, remember they are total strangers, and it's upon you to ask anything that can be an issue. Be thorough and get maximum information because most people only reveal negative issues in person. 
Don't withhold anything you feel is essential, like kids or if the person is living with them. Again, don't be too naive to believe everything you hear. 
Verify what you are told, as most people are showcasing their best version 
The primary purpose of meeting the person is to verify everything this person has said during the time you've been talking.
Once you get the chance, verify every detail, as you'll likely catch them slipping in person. You might be surprised that this person is not the "Hollywood" version they portrayed. 
Be on the lookout for scammers
Believe it or not, there will be sites like over50sdating.com that are outright scams. Pass if you notice any discrepancies in the photos. Never move to another website to continue conversations, give money for transport, or meet a date at home.
Don't give out your home address or phone number. Instead, take your time and communicate on the dating site's messaging page until you meet in person; then, you can exchange contacts if you want to pursue this further. 
If something looks off, just move on. And if it seems too good to be true, it probably is. 
Consider other forums
I've encountered people who met on Reddit, Facebook Dating, and meetup.com and ended up as couples. 
So don't limit yourself to dating sites alone; explore other options and network with people. You never know; your friend might introduce you to your next spouse!
In addition to the above tips, be flexible and allow yourself to enjoy every bit of it. Embrace modern dating; don't overthink about the future and how things will turn out; instead, let things flow. 
Senior Casual Dating FAQs
Do senior dating sites work?
Yes, depending on your effort, senior dating sites work just fine. We've heard beautiful love stories that began on senior dating sites. And like dating in real life, you must be willing to put in the work for it to work. 
What is the best free dating site for seniors?
OkCupid is the best free dating site since it allows seniors who've liked each other to message each other unlimitedly. Unfortunately, most dating sites don't offer this important feature in their basic plans. 
What is the most honest dating site for seniors?
There isn't a completely honest dating site, as they are open to everyone, especially the free ones. As such, regardless of the site's effort to screen scammers, they still find their way in, so it's upon you to be extra cautious. 
Is online dating any different for seniors over 50?
It is not because the sites make it different but because most seniors don't invest much time in online dating, especially since some don't believe in it. But it shouldn't be any different if you embraced online dating and played your part. 
Is there a totally free dating site for seniors?
Dating sites run a business, so they only offer limited features in their basic plans to attract people to the more expensive membership plans. However, if you are looking for a completely free site, SeniorsFriendDate and the Stitch community are the best options, as they make money by running ads, so almost all their features are free. 
Bottom Line
Dating as a senior doesn't have to be overwhelming. You can find a single senior on one of the free dating sites listed above who shares your interests. 
Use our tips to make the experience enjoyable and successful, but most importantly, stay safe. 
And while you try your luck with online dating, don't give up on real-life dating. You increase your chances by diversifying your options. 
Good luck!