Seniors can find online dating challenging as it isn't similar to what they're used to. After all, back in the day, all you had to do was meet someone in person and take things from there. 
In a world abuzz with technology, dating has been made easier, yet complicated. However, whether you're in your 50s or 70s, there's still a catch out there for you—someone you can spend the rest of your life with. 
To make this whole process go a lot more seamlessly, we've looked through dating apps made just for seniors and picked the best. 
Our verdict: There can never be a better time than now to try SilverSingles. But to give you more options, we added five more top senior dating sites for those over 70 years of age.
Our Top 3 Best Seniors over 70 dating Sites at a Glance 
Top 7 Best Seniors over 70 dating Sites
professionals.
OurTime―For Sleek messaging features.
Match+―For the fastest 50+ growing age group.
Zoosk―Best for the coolest features.
---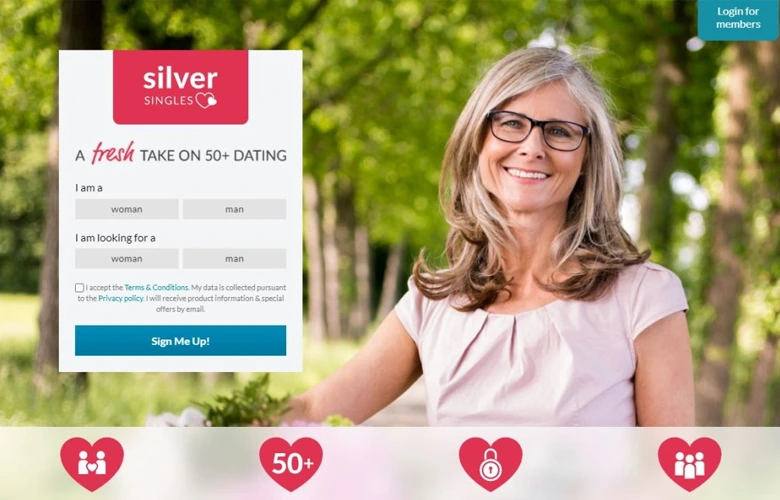 Having entered the online dating scene in 2002, SilverSingles started as primesingles.net, but with over 800,000 active users now, it's safe to say they've managed to establish themselves as a powerhouse in the dating world.
SilverSingles is a dating website dedicated to serving those over 50, and this is especially great for seniors who only want to date people within their age range. 
To get started on this site, a personality test is required to help pair you up with people you're compatible with. This test consists of 125 questions and can take up to 30 minutes. 
Aside from that, SilverSingles matches you with 3–7 people daily, which means your goal of getting into a committed relationship isn't far-fetched.
They also have a coaching feature, and for $99, a professional can help you make your profile the best it can be so you can attract other users.
The only pause we had with SilverSingles is that, sometimes, profiles miles away from you can be on your match, and the quiz takes too much time. 
But if that's not a deal breaker for you, complete your profile today and start getting ideal matches!
Pros
Provides you with 3-7 matches daily
The subscription fee is affordable
Targeted to adults of 50+
SSL encryption to help keep users' information safe
There's a lot to get from being a premium user
Cons
Limited features with a free plan
Users rely on matches provided by the algorithm
To retake the personality test, you'll need to talk to the customer support 
---
With over a million singles and 6,000 daily active users, there are just about 36,000 success stories to prove how groundbreaking this dating site is.
SeniorMatch is exclusively for those over 50. We're talking about mature dating experiences—not for hookups but for those who want to date with purpose. 
For starters, members under 40 are not allowed to sign up, so if you want to date younger singles, this might not be the best option for you.
Secondly, it only takes less than two minutes to sign up, and there are also lots of amazing features on the site. For instance, users can post first-date ideas for their matches to see, and other premium users can comment on this. You can also stay anonymous while checking out other singles.
The best part about SeniorMatch is having an account manager who can help with utilizing the site's features. Isn't that great for seniors who are unfamiliar with dating apps?
However, the downside of this site is that its verification methods are too simple. Also, because they provide matches based on your location, it can be hard to find someone if there aren't many users where you live.
Pros
Profile pictures can be viewed by everyone, even if you have a free plan
Made for those looking for committed relationships. 
Private photos option, making your photos only accessible to those you allow
Access to dating advice and safety tips by professionals
Cons
Because of their verification process, you might encounter fraudulent people on the site
Not made for those who aren't looking to be in a committed relationship 
Matches might be limited depending on your location
---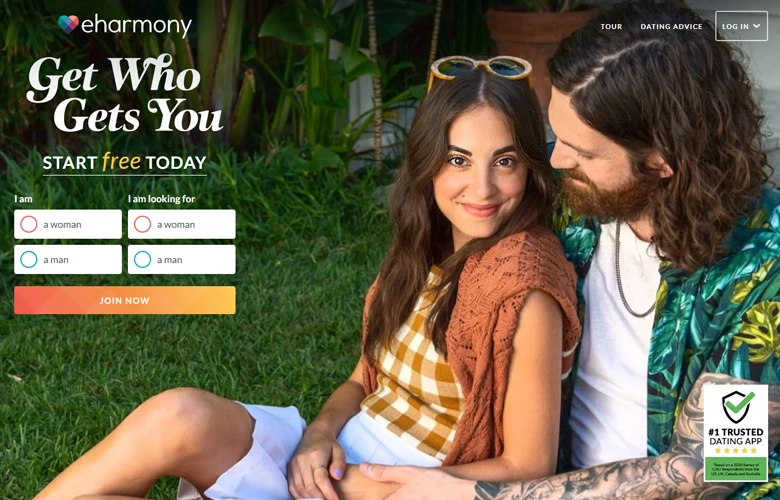 Launched in 2000, eHarmony is based in Los Angeles, California, and its site is tailored for those finding exclusive relationships, thereby making it a real deal for seniors who are tired of dating games.
To create your profile, you'll have to complete a multiple-choice compatibility quiz that consists of 80 questions, which would take about 20 or more minutes to complete, depending on how fast you are, but make sure you take your time. 
This compatibility quiz is designed to save you from swiping through thousands of profiles and only seeing those with whom you share the same interests.
When you read someone else's profile, you'll know right away whether you two are compatible or not. 
For seniors, eHarmony is pretty easy to work with, and the subscription prices are decent. But at the same time, the quiz takes too much time, and on top of that, most people don't have a detailed profile, which might make one give up on the whole affair. 
Pros
The website is easy to work with
Helps with making a meaningful connection
Has a video call feature
Cons
It takes time to finish the quiz and build your profile
Most people still don't have a detailed profile
You can't see those you matched with, their photos, and messages on a free plan
---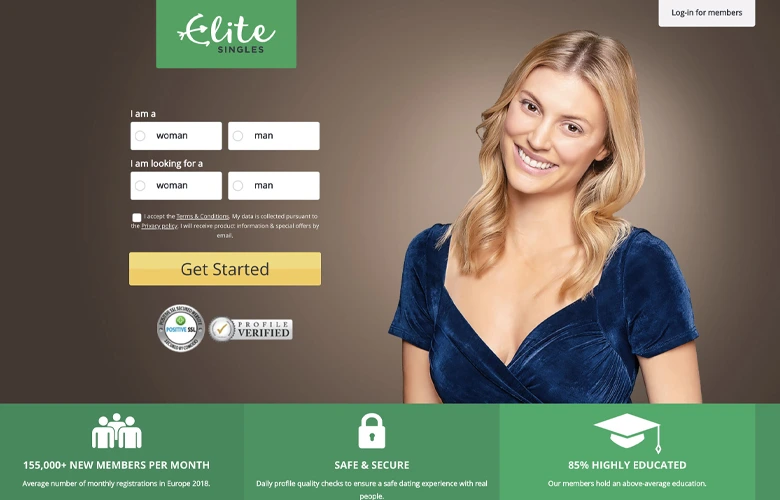 Based on 2018 data from the site, 381,000 users join EliteSingles every month.
EliteSingles is another dating site that only caters to those looking for a serious relationship. Their website claims that "more than 85% of their members have a university degree," which means that the site is more for people who are career-driven and have no time to date but still want to find love. 
However, that doesn't mean you can't find an ideal match as a senior. EliteSingles also sends you 3–7 compatible matches daily, and not all of these folks have a professional degree. 
It's also easy to navigate for seniors, showing you who visited your profile. Their messaging feature is sleek, and their app works on all devices.
The only thing about this site is the pricing structure, which they claim to be reviewing, and if that gets sorted out, it'll make things easier for anyone who wants to use it.
Pros
They also have a personality test developed by psychologists to help you find a match.
Great for retired professionals who want to connect with people just like them
Quality profiles to connect with
Cons
Compared to other dating sites, EliteSingles is expensive
Not everyone has a profile picture even though you're allowed to upload close to 24 
There's no refund on their premium membership after three days of subscription
---
OurTime claims to "help singles in their 50s, 60s, and beyond spark meaningful conversations." However, even if it caters to that age range, there are no age restrictions on the site.
To create a profile, you have to upload a photo, fill out your details, and then… you have free access to singles in your location! 
What makes this dating site stand out is that although free members can't reply to messages unless they pay, the "Reply for Free" feature allows free members to read a message if a paid member wants them to, but that's on the premium user's tab.
Safety is also assured with features like private messaging that doesn't require exchanging phone numbers, and every profile is reviewed before being allowed into the site.
They also have a "dating tips" section on how to protect your information and hotlines for issues like domestic violence or sexual assault. They also scan interactions for any sign of behavior that goes against their policies.
The only con about this site is that if you choose to leave, you cannot delete your account. The least you can do is hide it. Secondly, there's no personality test. 
Pros
The profile is easy to set-up
Safety is a priority
Lots of features to help you utilize the site
Dating advice and safety tips are also available 
Cons
Free members can't communicate with their matches
Matches can include users who live far away
You can't suspend your account if you're no longer interested in finding matches, but you can hide your profile
---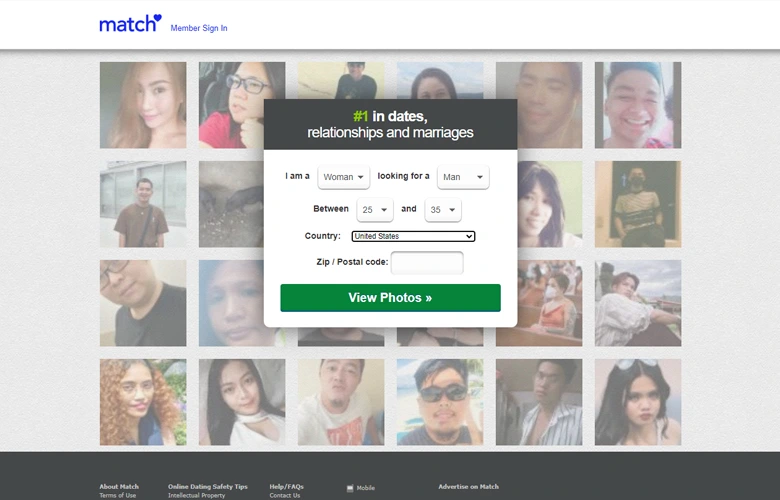 Launched in 1995, Match serves in over 50 countries, helping singles who want to be in a relationship reach their desired goal. 
A majority of its 39 million users are 30-49 years old, but their 50+ demographic is growing every day, which means they can still help you reach other seniors.
All you have to do is create a profile and sift through the available matches to know if they meet your criteria. Another perk is that Match's dating experts provide dating advice, and the first session is entirely free!
The site is also free, but if you want access to lots of amazing features, you would need a subscription. With that, you can get access to MatchEvents, an event inviting all singles in that area. You can also attend events in other cities and take trips to other parts of the world to meet with other singles.
The problem with Match is that, with so many members, it can be quite exhausting to go through with it.
But if you're still interested, Match is available on Google and the iOS store.
Pros
Gives you a chance to showcase yourself the way you want
You get a refund if you don't get a match in six months
The 50+ age range is growing
Gives you a chance to experience the world again by traveling 
Cons
It's exhausting to sift through those users and features at once 
Subscription prices are subject to change without prior notice
The free version only allows you to message one person per day 
---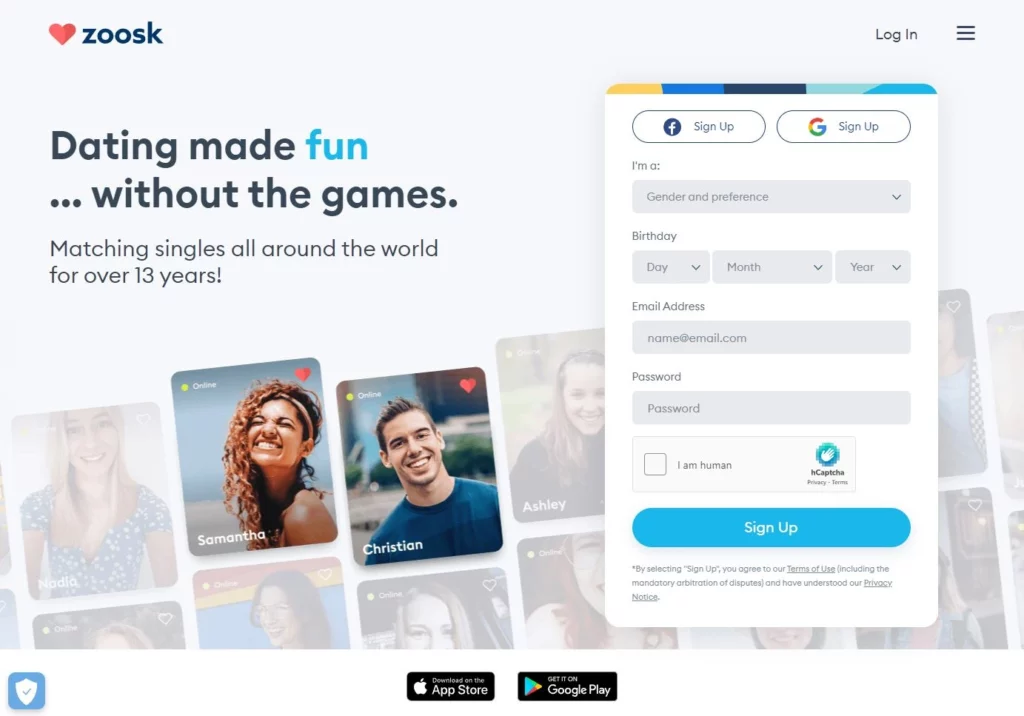 Available in 25 languages and in 80 countries, Zoosk was founded in 2007 in Fremont, California, and they have over 35 million members and 3 million+ messages sent out every day.
With its largest markets in the US, France, Australia, Canada, and the UK, Zoosk is great if you're looking for something serious or casual.
One of the biggest reasons you should be using Zoosk is because of its features. Their ZooskLive option allows users to go live while others can send messages or watch the host. This means that you can go on a virtual date with someone. 
Their verification process is also strict. Zoosk asks you to verify who you are through your Facebook, Twitter, and phone (SMS). This is done to reduce the number of fake profiles and ensure that you are dealing with quality profiles on their site.
Their customer service is great at answering and solving any issues you might encounter while using their services.
The only obstacle with Zoosk is that more people are looking for casual dating than for a serious relationship. 
Pros
A swipe-like feature like tinder
Premium plans are affordable
Lots of features to make your dating experience worth it
Helps you easily connect with someone from the comfort of your home
With their Zoosk great dates, starting a conversation with someone has never been made easier
Cons
Incomplete profiles
More people are looking for a casual hookup, than for relationships
Coins, boosts, and gifts might not be budget-friendly for some users
---
Things to Consider When Choosing a Dating Site for Seniors Over 70
Questionnaires
A lot of the dating sites on our list have this feature, while others don't. Questionnaires are usually detailed personality tests crafted by psychologists and dating experts to help you find a match.
Although answering these questionnaires takes time, it also helps with sifting through thousands of profiles to find a potential partner with whom you share similar interests.
Privacy and Safety
You need to choose a dating site that prioritizes your safety and privacy. For instance, some of these sites allow you to browse anonymously, which is great if you want to keep your identity private.
Also, a strict verification process is really important. It means not just anyone has access to the site, and whoever is a member is meant to be there.
Lastly, ensure the site you're using has a fraud detection system to remove fake profiles, and they also have helplines in case anything happens.
A website with a game plan 
Match wouldn't be successful in business if they didn't have a plan. What's more is that for 25 years, they've been constantly improving to be at the top of their game.
Some dating sites also boast of matching 2,000 couples every single month, and they have proof to back it up. Others offer dating advice to help you succeed out there.
Bottom line: with the amount you're paying, make sure the site you're choosing knows exactly what they're doing. Is there any negative press about the site as a result of data leaks? How about their customer service? Is it as efficient as you want it to be? 
Cost
When you find a site you love but it doesn't fit into your budget, you might call it quits after a while. That's why a lot of the options here are super-affordable for the quality they offer.
Remember, don't trust sites that never require payments because their services are mostly crappy and your privacy isn't assured. 
Cool Features
Nowadays, dating apps come with easy-to-use features that will help you experience a new online dating world. Think of Zoosk GreatDates or OurTime's sleek messaging features to help you win your match. 
The ones on this list promise you the best and more. What makes it great is that even if you aren't tech-savvy as a senior, you can still make the most out of these features.
Conclusion
A good senior dating website must live up to three things. One: It must be dedicated to serving you with top-notch customer service.
Two: it needs great features to help level up your dating experience, and lastly, you need professionals. Either to help work on your profile or for any advice they can give,  SilverSingles won in all categories.

For other options designed for those over 50, try out SeniorMatch, and to find someone you're compatible with in no time, use eHarmony. All these and many more on the list are guaranteed to help you find love. Happy online dating!